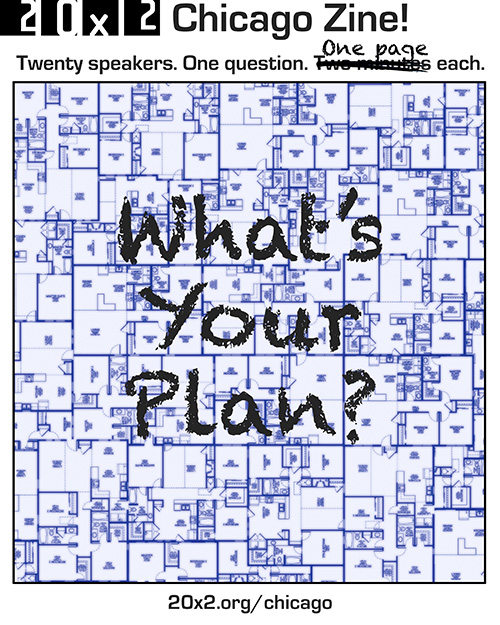 Now in zine form!
What happens when you take 20 handpicked creatives and luminaries, give them each two minutes in front of a live audience and the same (fuzzy) question to unravel? That's the premise behind 20x2 Chicago. The results can be as varied as the emotions and reactions they evoke. Normally, 20x2 Chicago is a live stage show. Twenty interesting people each have two minutes to answer one question in any way they choose. It's a fast-paced show, fun and creative and heartfelt. The speakers feed off by the reactions of the audience.
As COVID-19 began to make its gravity known in China and Europe in early March, we were nearly ready to announce the April show at Schubas. We started to get a little nervous. Then it arrived in the US, and things really looked bad. After some deliberation, we decided that the right thing to do was cancel — and soon after we did so, Illinois put a stay-at-home order into effect.
Rather than try to coordinate a 20-person Zoom performance (although if this goes on long enough, maybe that won't seem so daunting) we decided to put together a zine. Twenty "speakers." Each gets one page in which to respond to the question in any way they like, provided it's reproducible in a printed document. The question we gave everyone is "What's your plan?" The answers we got range in style, substance and subject matter. Taken together, it's as close to a 20x2 show as can be possible in print.
Download it here as a PDF. We'll also be printing up copies to sell online and at future shows. Thanks, and hope to see you again soon!